You are never too young – or too old – to be christened or baptised.
At St Oswald's, we love to do christenings and baptisms, and we will give you a warm welcome!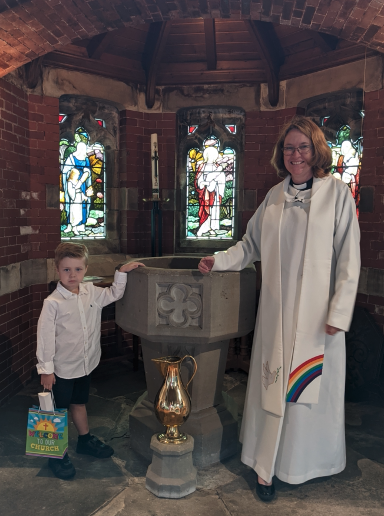 Christenings of babies and children
Your child is precious to you and precious to God. You want the very best for them, and so does God. You want them to make right choices in life, for themselves and for others. The baptism, or christening, of your baby is just the beginning of this and so much more.
It's the first step of an amazing journey with God, parents, godparents, friends, family and the church. You don't have to have been christened yourself, and you don't have to have been a regular churchgoer. But over the years to come, it's a journey you'll share together with your child by:
Being there for your child to talk to about the bigger questions of life – questions about hope, faith and love.
Praying for your child through the ups and downs of their faith journey.
Showing them practically how to make those good choices in life.
Helping them to learn more about their Christian faith, through their church and in other ways.
So it's a commitment to start as you mean to go on.
Baptism of adults
Whenever it happens, baptism is at the heart of an amazing journey of faith as a follower of Jesus Christ. You are never too old to take this step, and being baptised as an adult is a wonderful experience.
Or – you may have been baptised at a christening when you were a child or in a different Christian tradition. But there are always special ways to renew the promises that were made then in a fresh way as you discover more about what it means to live them out in your life.
How to organise a Baptism at St Oswald's
Christenings, baptisms, are always on Sundays. We like to do christenings within the main Sunday Service at 10.30am where you'll be welcomed into the congregation and we'll have hymns and maybe Communion as part of the baptism service. Often baptisms are after the main service has finished, at 12.15pm, when they will be shorter with no hymns.
If you'd like to know more, come along to any 10.30am Sunday service and afterwards talk to Rev Nancy or Churchwardens Jackie and Christine, or come after any Sunday service and join for coffee to have a chat. We'll have to check diaries, agree dates, fill out the forms, talk about the baptism service and chat about your important decisions like Godparents.
There is lots of useful information for you and for Godparents on the church of England christenings website: https://churchofenglandchristenings.org/