Here you can catch up with our latest news stories.
AUGUST
Fun at the Pet Service on 6th August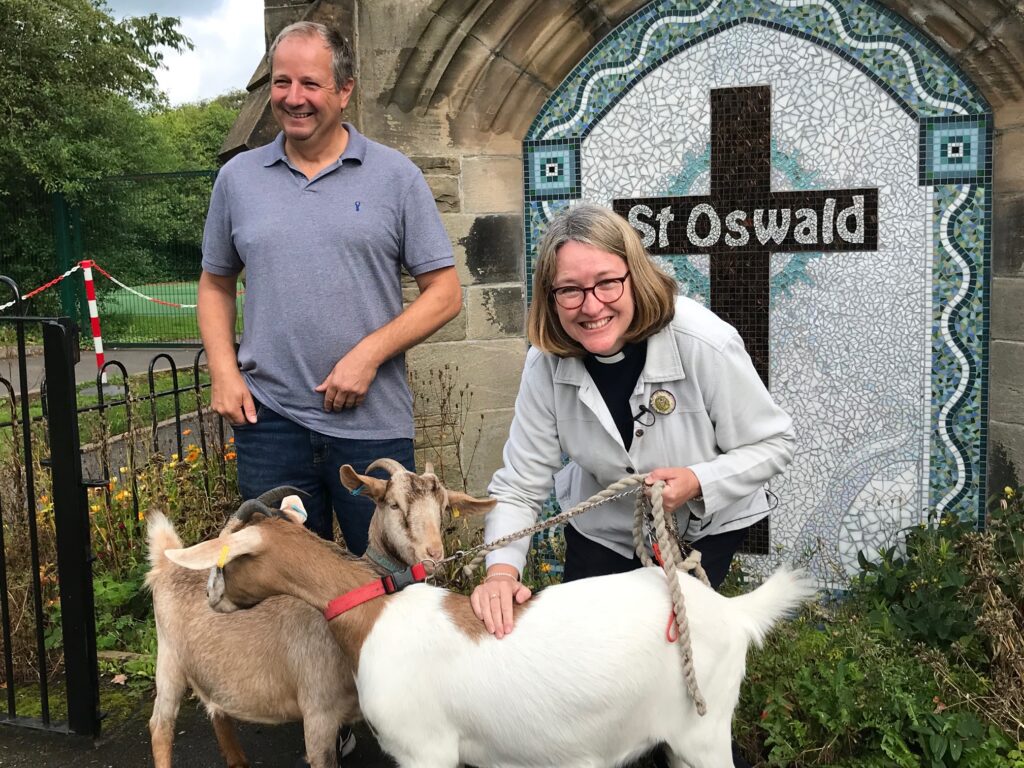 Two visitors who preferred to stay outside….big thanks to Robert of Red Oaks Farm for bringing along his goats!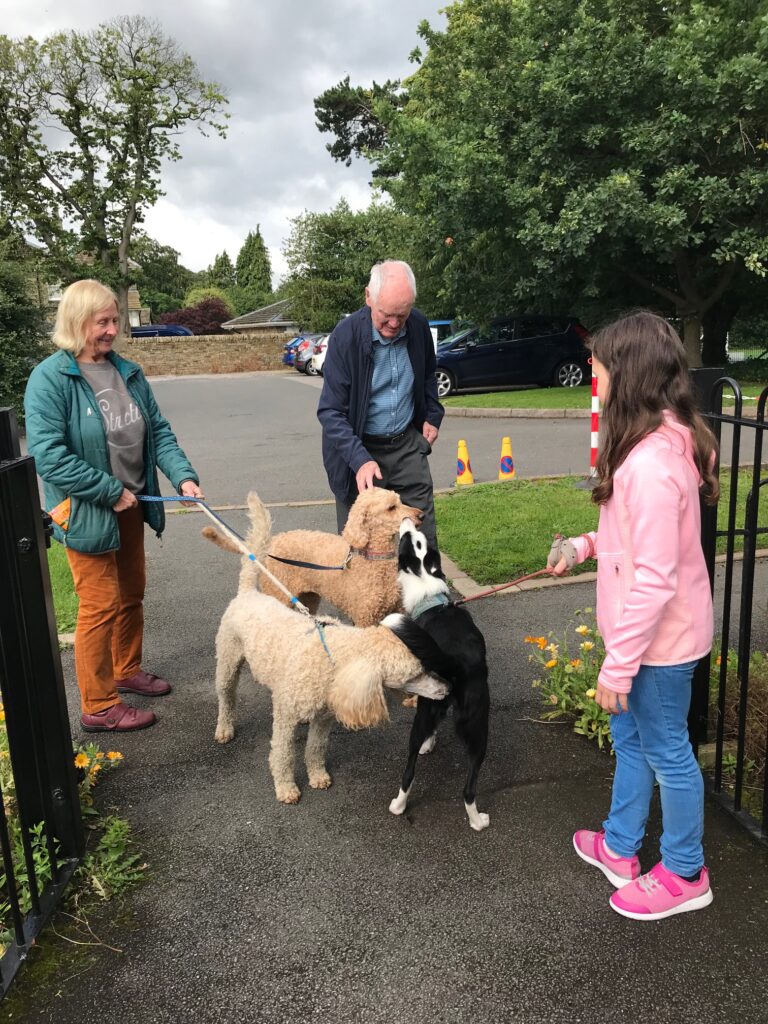 It's always nice to be greeted when you first arrive at church.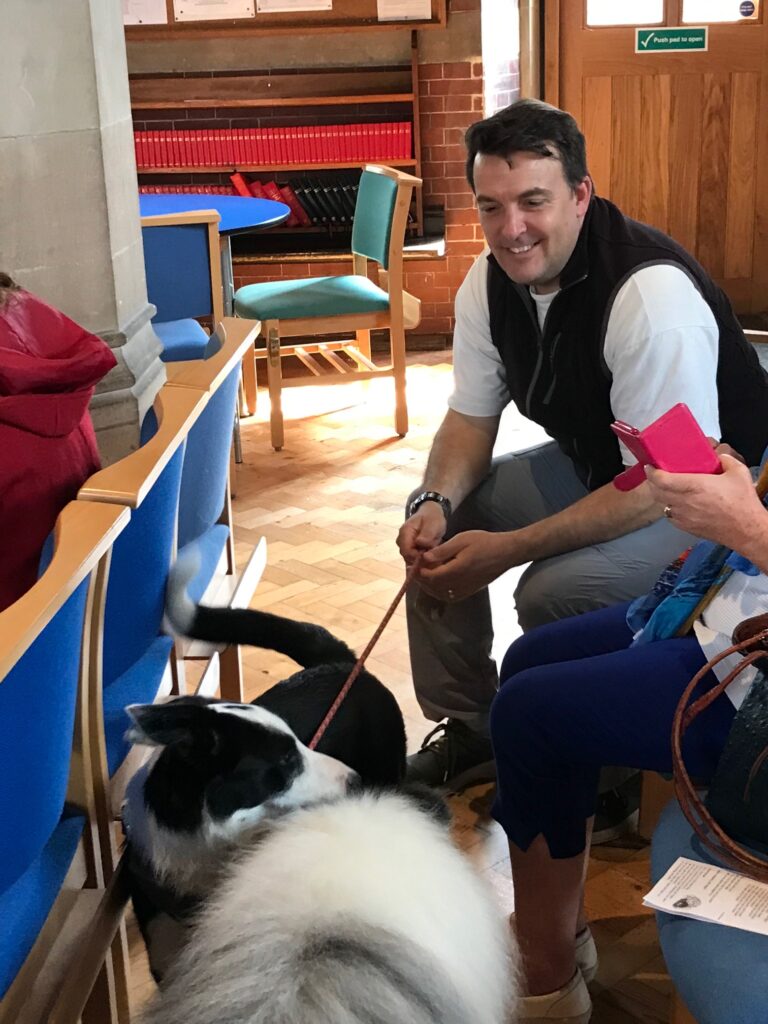 Sharing the Peace is always a friendly moment!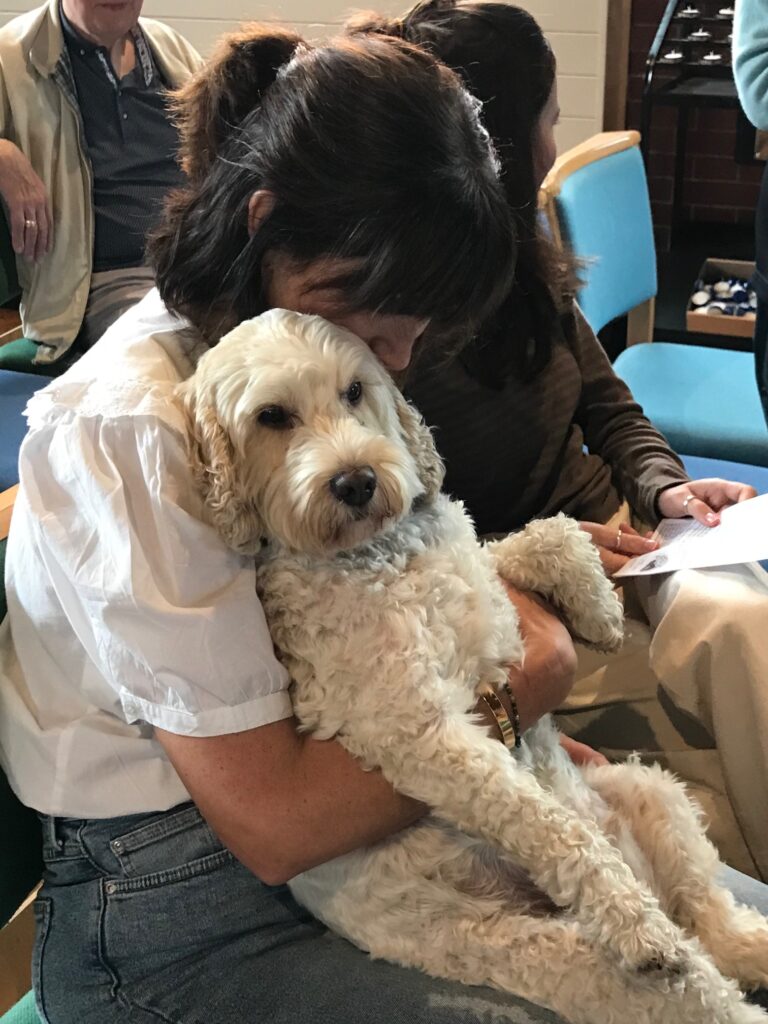 Sitting in church is very comfortable.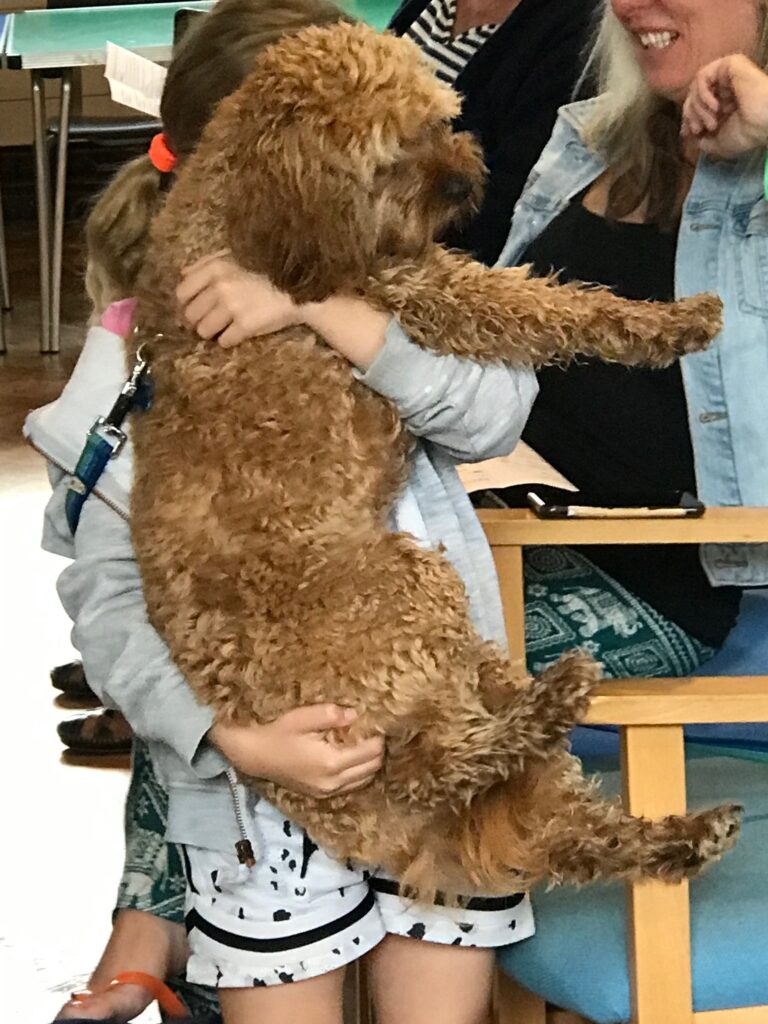 Sometimes you get moved to a different chair!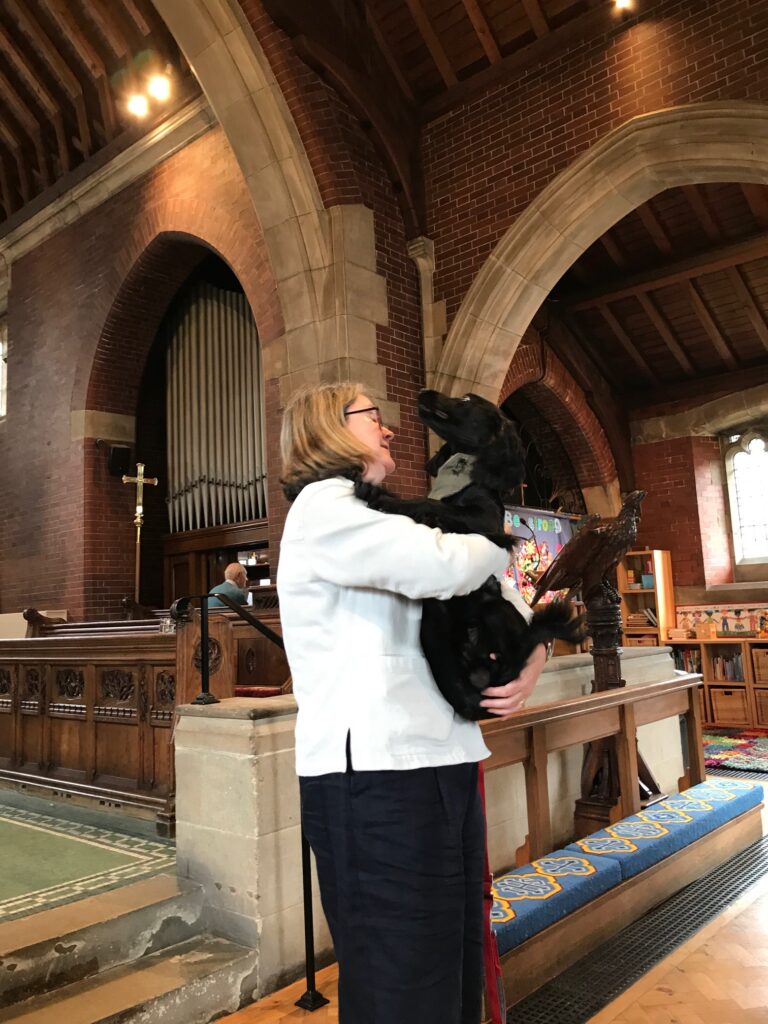 It's good to dress like Mum – wearing black and a dog collar!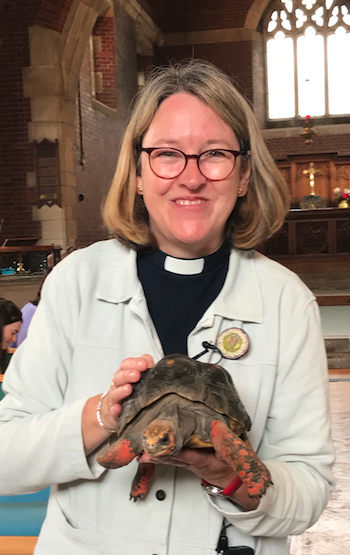 Some visitors to the Pet Service were slower than others…thanks to Brenda of Red Oaks Farm for bringing her tortoise along
APRIL
In looking forward to Easter, Praise & Play have been busy!
Praise & Play creates a cross of flowers!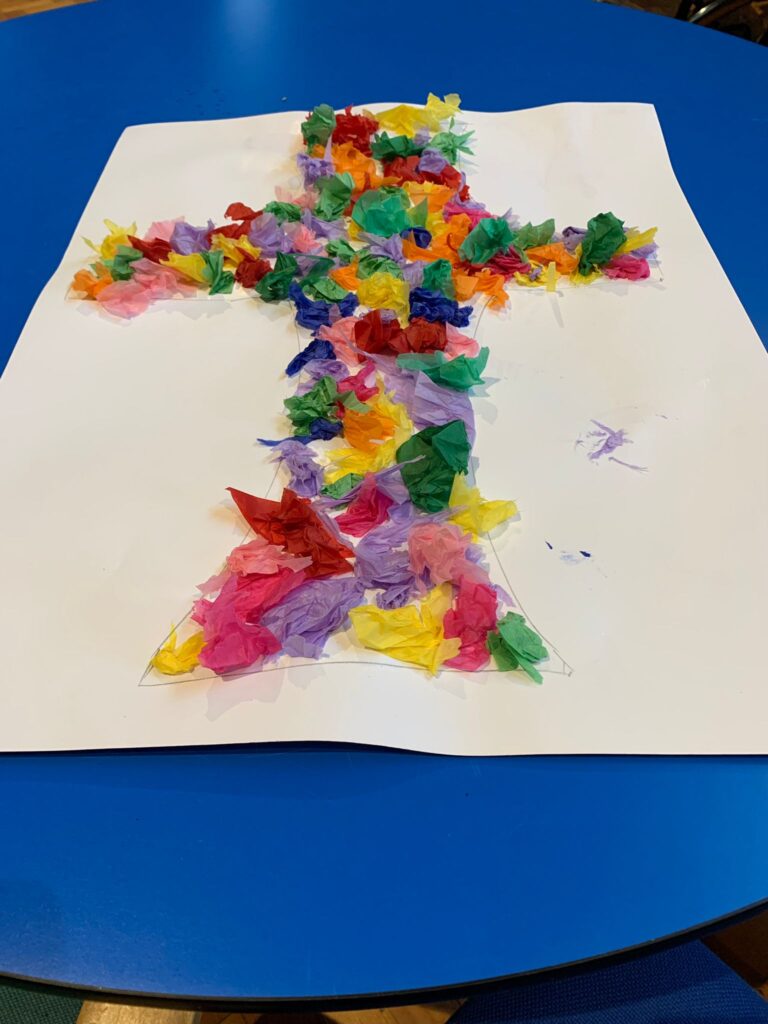 Praise & Play builds an Easter garden!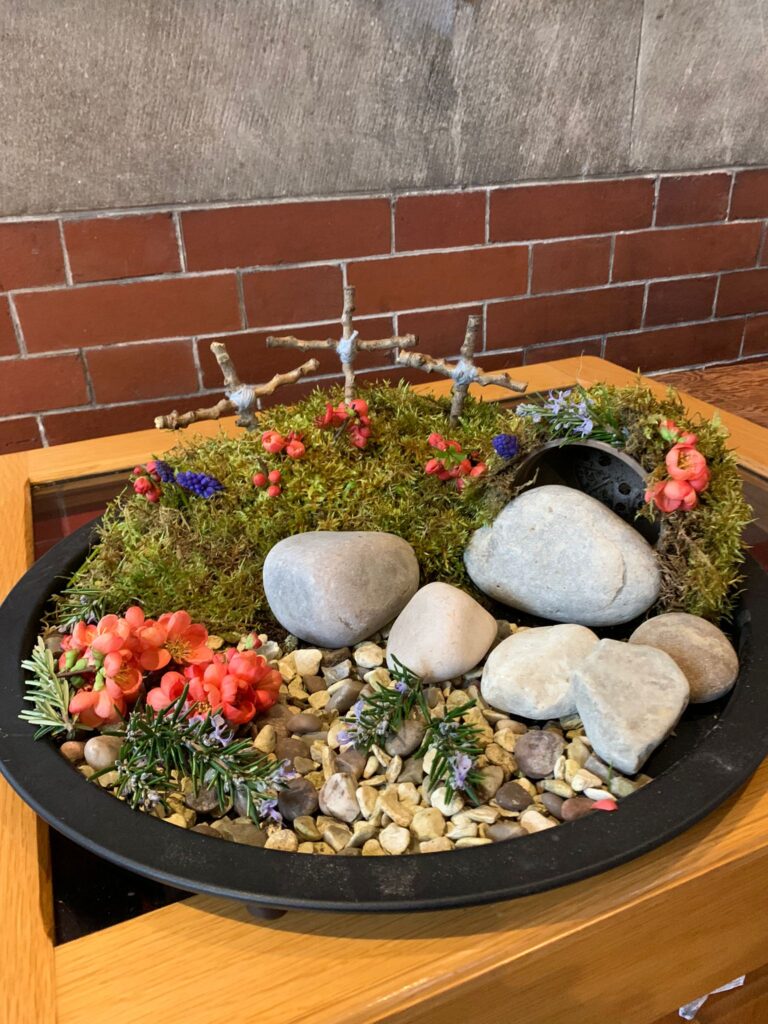 Praise & Play completes the Elf Run
The toddlers of our Praise & Play group have raised an impressive £127.90 for East Cheshire Hospice.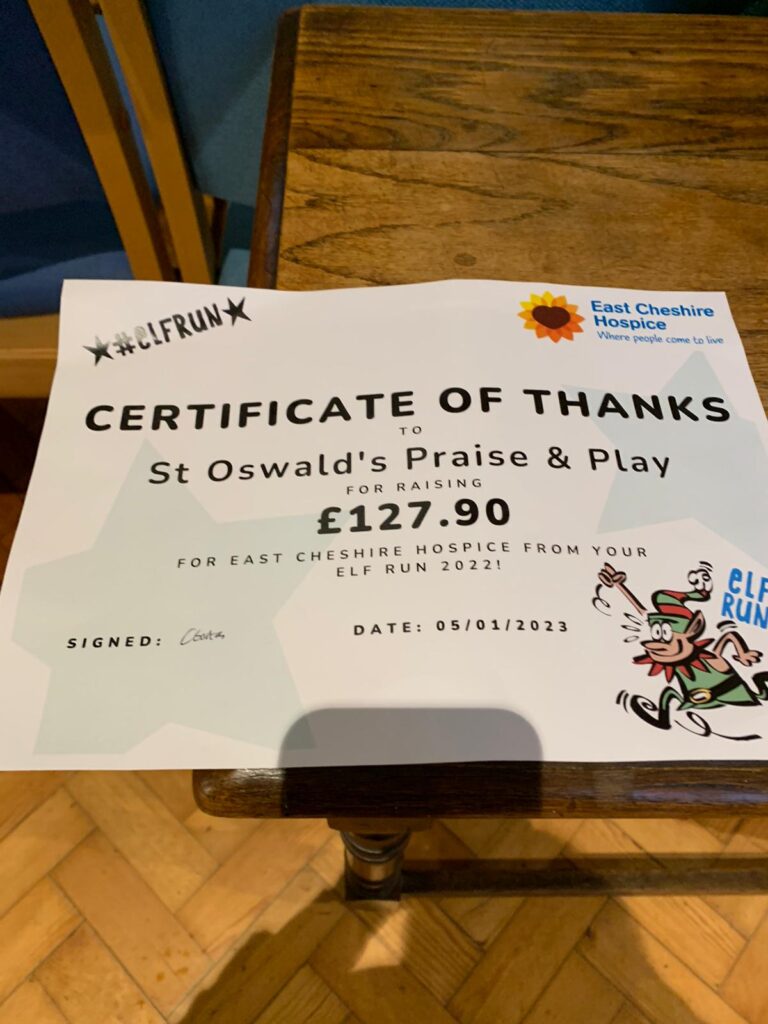 The two-to-four-year-olds donned their elf hats and tackled the Elf Run obstacle course, set out in St Oswald's church, cheered on by their mothers and younger siblings.
Our warm congratulations to each child for their excellent efforts which raised such a big amount.
***. ***. ***
Sing Along Carols
22nd December 2022
Our Sing Along Carol service just before Christmas Eve proved to be very popular! All ages came along to join in the informal fun of choosing carols to sing amid plenty of mince pies and mulled wine.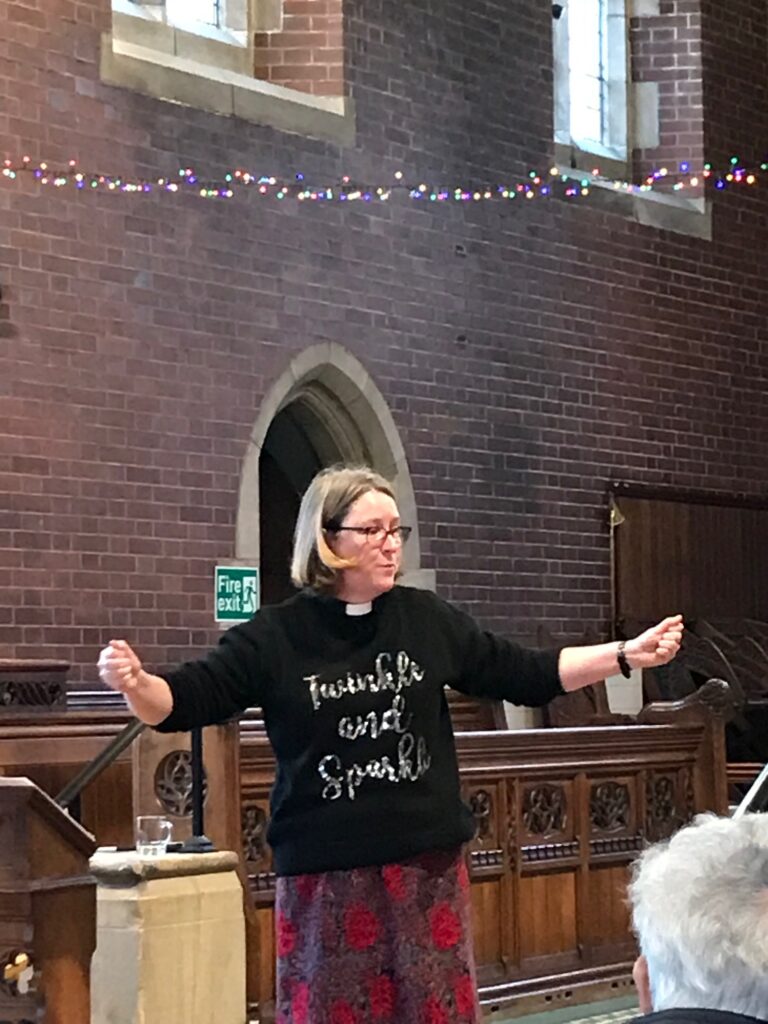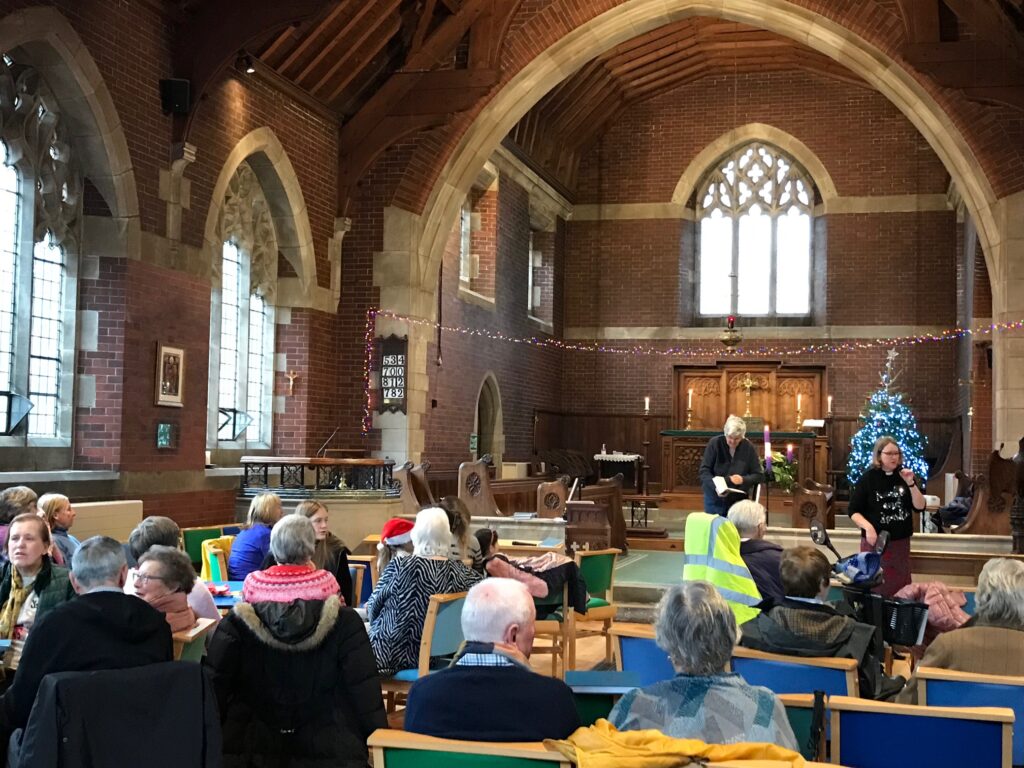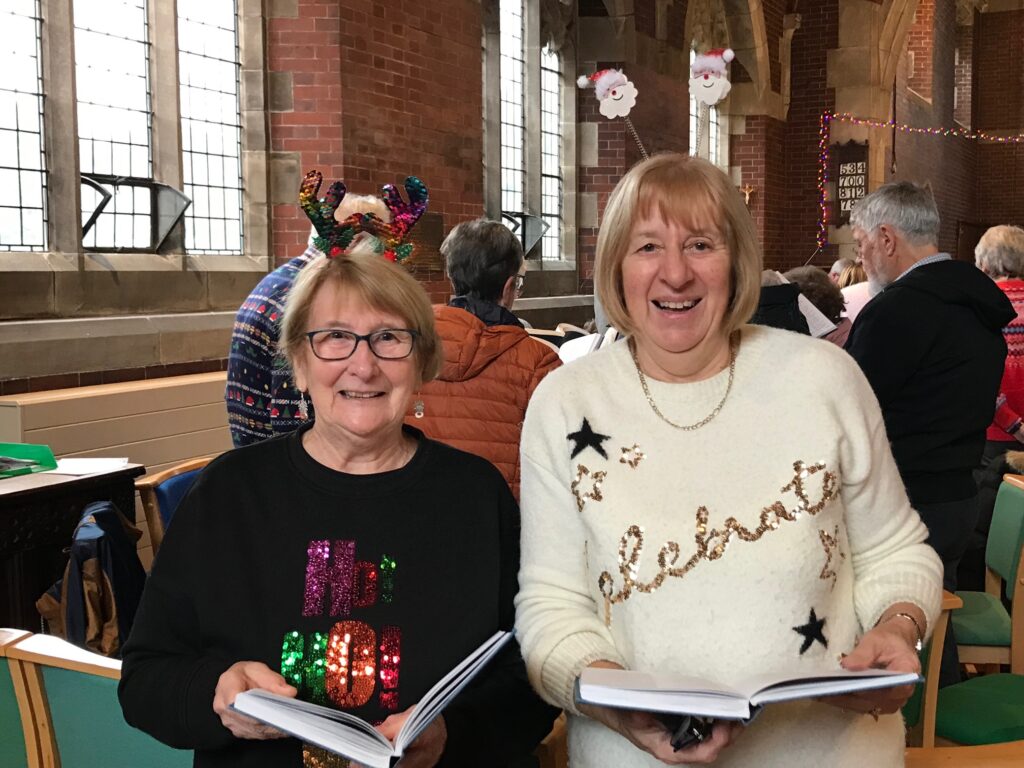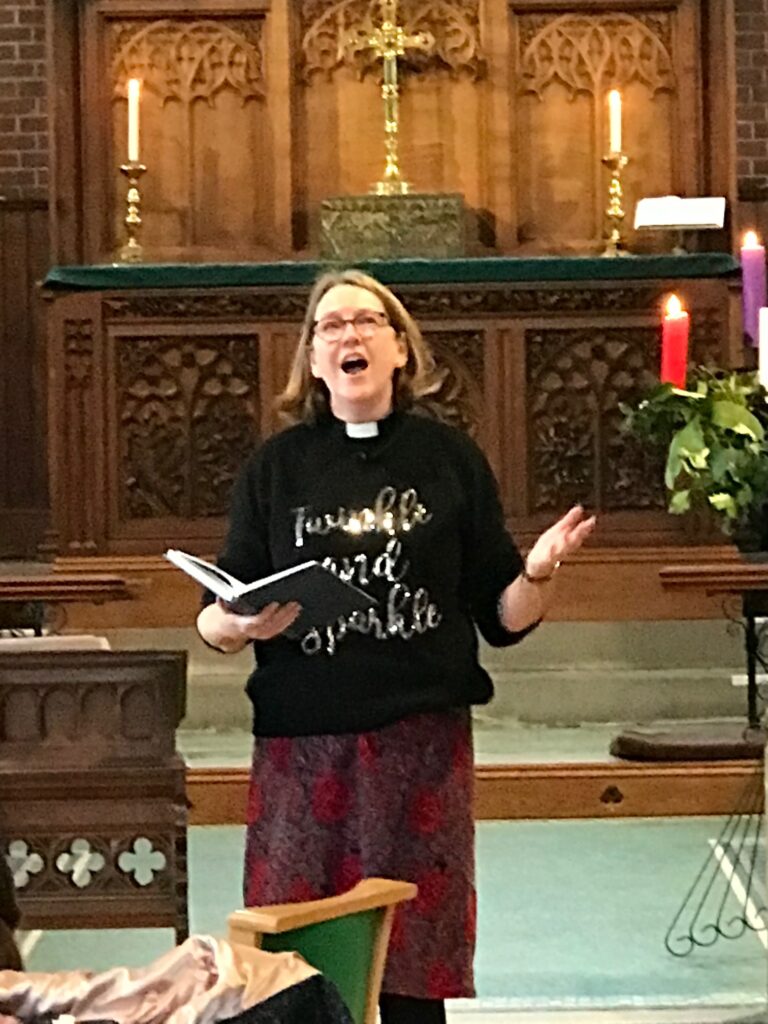 *** ***. ***
Remembrance on Shining Tor
9th November 2022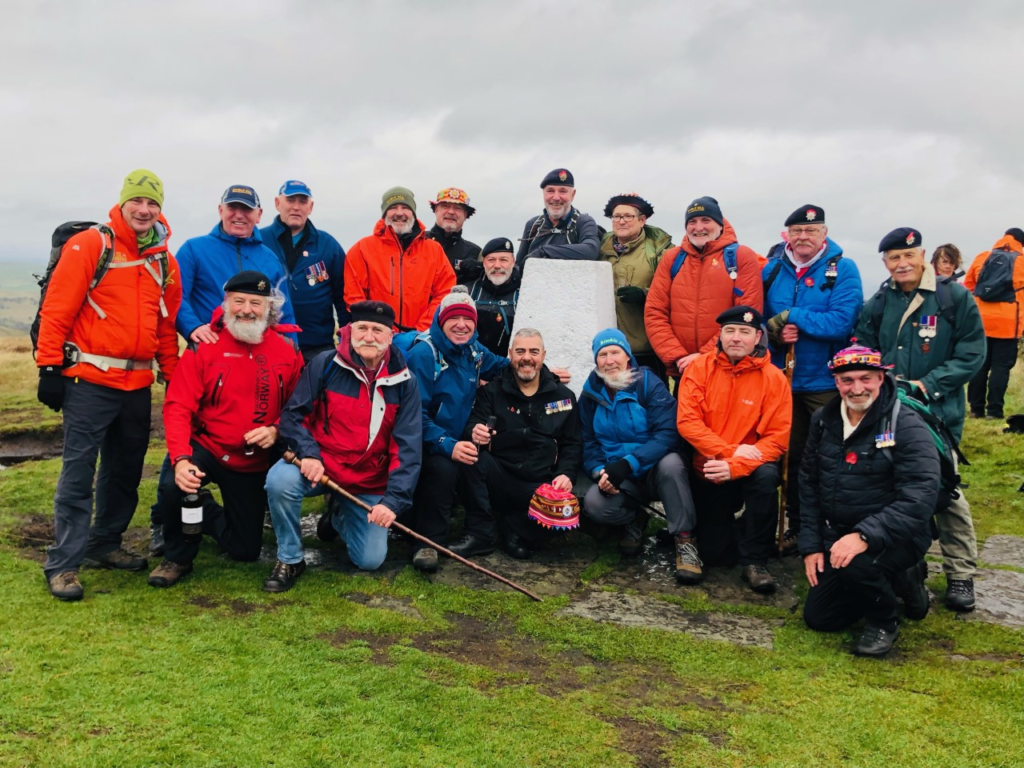 Report by Mark Lomas & Emma Pengelly
On the morning of 11th November 2022, a group 38 ex-Cheshire Regiment soldiers, together with their families and friends walked up to the highest point in Cheshire – Shining Tor – to pay respects to the fallen.
It was fantastic to have Rev Nancy Goodrich (of St Oswald's church in Bollington) join us & lead a very moving & poignant service. We also had readings from our special guest, Charlie Lawson, and we made a toast to absent friends.
On our way back down, we visited the nearby air crash site where Cheshire Regiment veteran Mark Lomas, owner of local Bollington company Treks to the Wrecks, led a lovely tribute to the pilots who lost their lives. We all paid our respects and laid another wreath.
We were pleased to have local charity Project Recce join us on this event. Their charity offers free courses to prepare Veterans and Service leavers for a sustainable career in the UK Construction Industry, regardless of their previous experience.
It was a very special day & one that will be always remembered.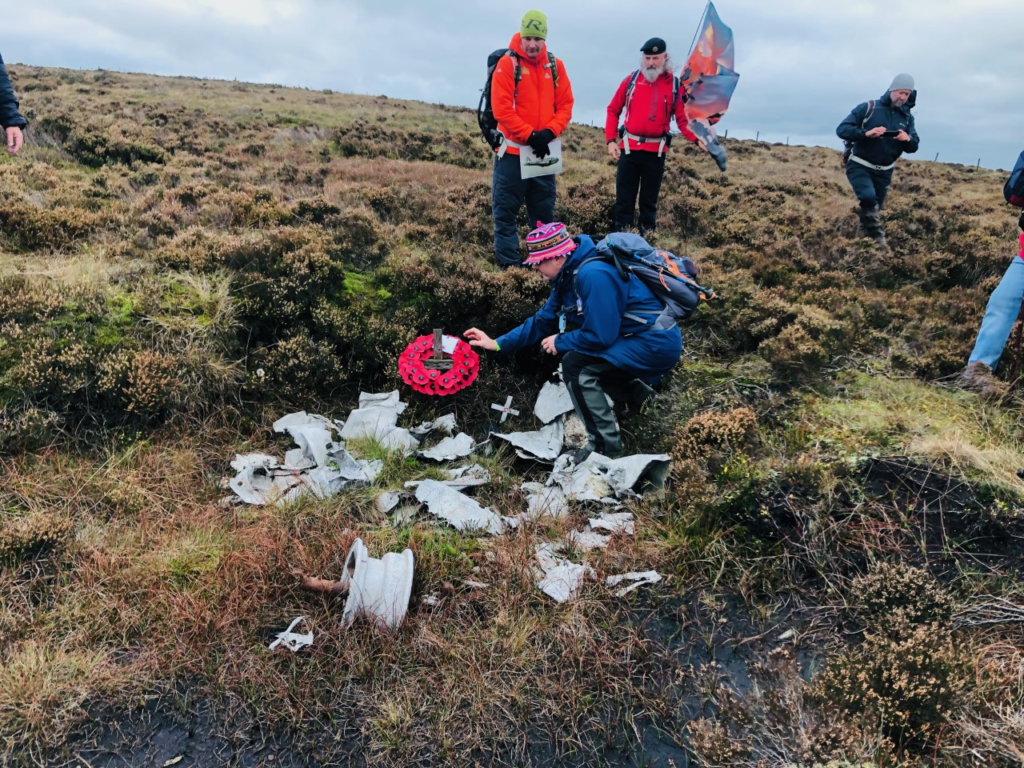 ** ** **
28th August 2022
Happy Birthday Peter Davies!
Report by Jackie Pengelly
Christine and I were invited to Peter's 100th Birthday celebrations on a very warm and sunny afternoon in August. What a lovely time we had surrounded by his family and many friends.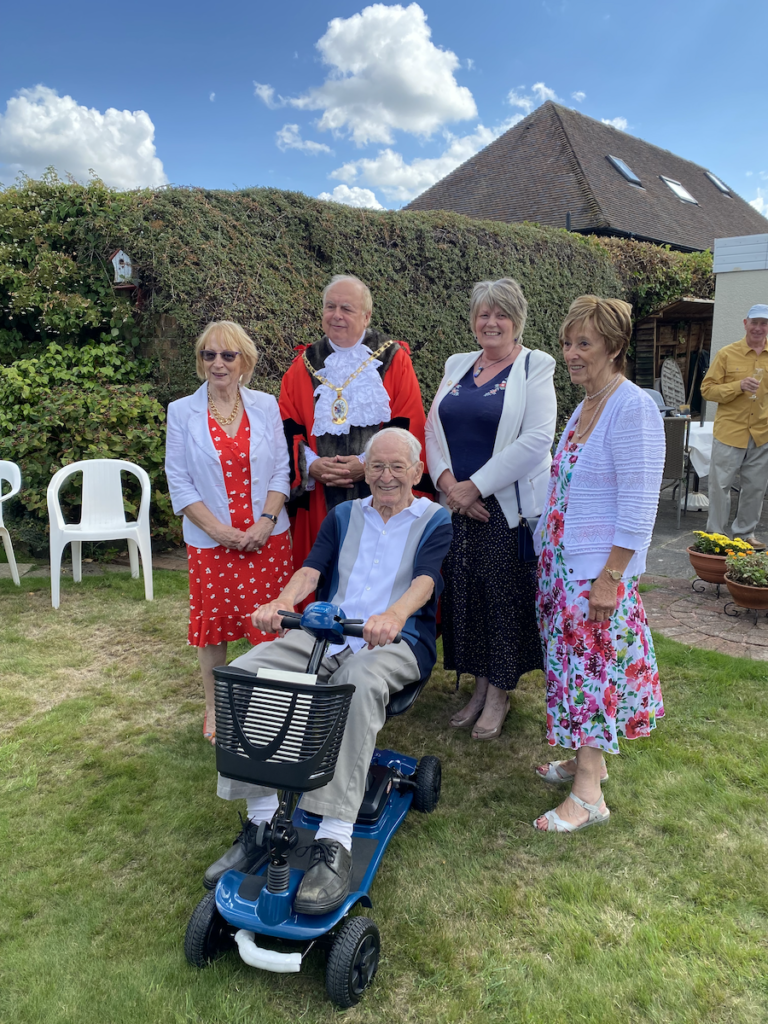 Peter was a glider pilot in the 2nd World War and flew Hamilcar gliders and was part of the Operation Varsity which was the largest airborne military assault ever launched, the landings meant allies the could get across the River Rhine into Germany in March 1945. Peter's glider was hit several times during the battle and crashed landed but remarkably he made it out.
After the war he helped raise funds for a dedicated memorial to his regiment 653 squadron and on his 100 birthday he received a guard of honour in the Memorial Garden at Manchester Airport by veterans from across the North West and also servicing members of the 653 squadron based in Hampshire.
Before St John's closed he worshipped regularly along with his wife Gina. He now worships at St Oswald's each Thursday morning.
He keeps himself busy writing short stories one of which won him 1st prize in a literary competition. The judges included Virgina McKenna OBE and Nicholas Owen.
You can often see Peter on his mobility scooter riding around Bollington and seen chatting with people on his travels. Peter is a inspiration to everyone who has had the pleasure of meeting him.